Dr. Vanessa Jalbert-Caputo, Chiropractor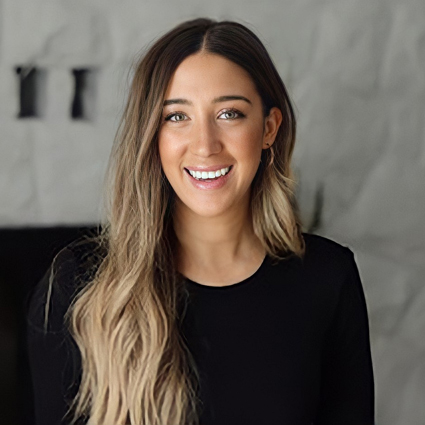 "I was born in Sault Ste-Marie and raised in Sudbury, Ontario, where I began my studies. During my high school years, I quickly realized that I have a huge passion for health, fitness, and nutrition and that I wanted to help people live a healthy lifestyle."
Dr. Vanessa sees her patients as an entire being, not a symptom. "By taking pressure off of the nervous system, the body is then capable of healing and functioning at 100%." She wants our community to experience lifelong health and is committed to helping each patient achieve it. Dr. Vanessa looks forward to becoming a part of your journey to health and wellness!
Witnessing the Effects of Chiropractic
Dr. Vanessa's sister was diagnosed with scoliosis at the age of 11. The diagnosis led their family to a chiropractic office. During that first visit, Dr. Vanessa learned what chiropractic indeed was and how the nervous system controls and coordinates every single thing that happens in the body.
"I knew right then and there that this is what I wanted to do for the rest of my life. I started shadowing chiropractic offices and watched as lives were being transformed every single day. And so began my interest in chiropractic care."
Education and Experience
Dr. Vanessa attended Laurentian University studying Promotion de la Santé, where she received a Bachelor's Degree in Physical Education. After graduation, she took a leap of faith, packed up her entire life and moved to Port Orange, Florida. There, she studied at Palmer College of Chiropractic. "Yes, I made the right choice to escape the cold winters and study in the Sunshine State!"
After earning her Doctor of Chiropractic, Dr. Vanessa accepted a fantastic chiropractic position in Tampa, Florida, where she specialized in structural correction chiropractic care. She oversaw the care of patients from only a few hours old to the age of 94. It was during her first year practicing in Tampa that Dr. Vanessa realized her heart was still in Canada, which brought her to Oaktree! She is a member of the College of Chiropractors of Ontario.
EXPLORE OUR SERVICES »

Enjoying an Active Life
Dr. Vanessa's family and friends are the biggest part of her life. That's why she decided to move back to Canada and join Oaktree Chiropractic & Acupuncture. If she's not in the office, you can find her in the gym, exploring the city, or spending time with her friends and family.
Discover the difference that chiropractic care may make in your life.
---
Dr. Vanessa Jalbert-Caputo | (613) 680-4325