Family Chiropractic in
Ottawa, Downtown Ottawa, Orleans and Stittsville
Helping Your Family Grow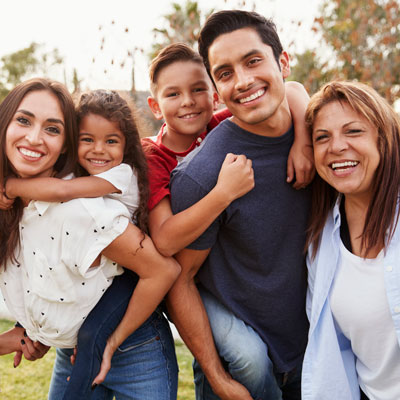 A family is a structure. It's important that it stays whole by keeping every member healthy and happy. Our chiropractors have specific training and certifications in paediatric chiropractic and pregnancy care to provide you with the best care every step of the way. From individual or couple's care, to expecting mothers, newborns, toddlers, and all the way through childhood and adolescence, we're here for you.
Our clinic's family-oriented atmosphere ensures everyone is comfortable and cared for. We provide every member of the family with the help they need to achieve better health naturally and effectively.
A Family Who Gets Healthy Together, Stays Together!
As a family-run chiropractic clinic, family is more than just a label. It means that as the family grows, they grow well together, too. Healthy children make for happy parents. Whether you need a chiropractor for babies, young children, and teens, the entire family can benefit from proper posture and alignment. Book your family for a consultation and see what we can do for you!
Learn more about our family chiropractic services:
The goal of chiropractic care during pregnancy is to ensure that expecting mothers are comfortable every step of the way, and we consider it an honor to work with our expecting patients. As pregnancy progresses, it can affect and alter the spinal and pelvic alignment, which can often be uncomfortable and even painful to a woman's body.
Dr. Emilie, Dr. Katrina and Dr. Marie-Pier are certified in the Webster Technique, a specific family chiropractic technique used during pregnancy to help decrease in-utero constraint (a condition leading to fetal malposition).
We encourage our moms to come for a visit as soon as they can after giving birth to have their baby checked for misalignments. Chiropractic for babies and children may help with better sleep, digestion, and breastfeeding. It's important to start from day one and keep with regular maintenance to ensure that your children grow healthily.
It's never too early to bring your newborn in for paediatric family chiropractic care. Correcting spinal misalignments when children are young makes it a lot easier to correct problems, prevent future problems, and ensure their spines will continue to grow properly.
Ready to Get Started?
We're pleased to serve our entire area with chiropractic care for all ages. Contact our team now to schedule your consultation for family chiropractic Ottawa or Downtown Ottawa, Orleans and Stittsville!
CONTACT US »
---
Family Chiropractor Ottawa, Downtown Ottawa, Orleans and Stittsville ON |
Oaktree Chiropractic & Acupuncture