Dr. Veronica Brynaert, Chiropractor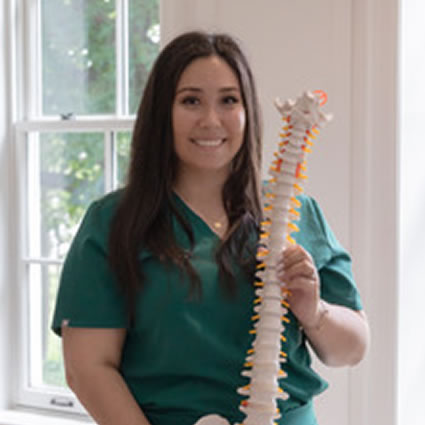 Dr. Veronica was first led to chiropractic through competitive swimming at the age of 12 – claiming multiple provincial and national titles. Having her fair share of injuries, she had tried all types of therapy before landing on chiropractic. She learned that her pain was not solely caused by her shoulder (where she felt the pain), but also her spine! By addressing both areas of the body, she was able to not only recover, but also better understand how the body is connected – making her a better athlete in the pool!
Dr. Veronica attended the Canadian Memorial Chiropractic College in Toronto, graduating Summa Cum Laude, after completing her Honors Bachelor of Science degree in Human Kinetics at the University of Ottawa. She is a member of the College of Chiropractors of Ontario.
Dr Veronica is originally from the Greater Toronto Area but has returned to the community that welcomed and embraced her throughout her undergraduate studies.
Style of Care
Dr. Veronica's style of care is not only to alleviate pain, but to get down to the root cause to achieve optimal movement and function. Dr. Veronica enjoys working with individuals in all walks of life. Her goal is to integrate proactive approaches to prevent recurrence and empower patients to become active participants in their health.
Outside of the Practice
Outside the clinic, you will find Dr. Veronica trying tasty local restaurants with her fiancé Danny, hanging out with her dog Russell (she's just a little obsessed!), or at a spin class!
---
Dr. Veronica Brynaert | (613) 424-4315