Acupuncture for Stress And Anxiety in
Ottawa, Downtown Ottawa, Orleans and Stittsville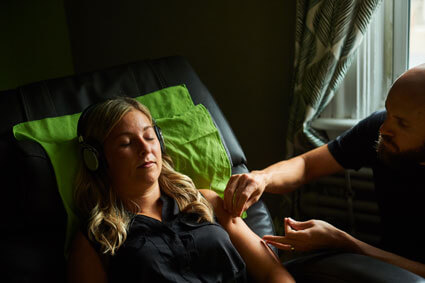 Much of what we know about this ancient Chinese medical practice is centred on the healing benefits it provides to the physical body. Within recent years, however, there has been a growing number of studies that show how it benefits an individual's mental health by reducing stress and anxiety.
Stress causes more damage to your health than many diseases. Acupuncture regulates your overall health, works faster than therapy, and best of all keeps you drug-free.
How Acupuncture Can Help Your Stress Levels
Most people understand what it's like to experience the "regular" anxiety felt in stressful situations or special circumstances; we're only human after all. Whether you're going into a job interview, making an important presentation in front of a crowd or getting ready for a first date, the uneasiness that takes over is completely normal.
For people who are diagnosed with anxiety disorders, these feelings are intensified and extend beyond everyday circumstances and are experienced to varying degrees of severity. Despite its ubiquity (about 12% of all Canadians are affected), there is still a surprising amount of stigma attached to it, which results in a lack of understanding and compassion for those who suffer from anxiety disorders.
No matter what kind of stress or anxiety you are suffering from or have suffered through, acupuncture for stress can help lead you on the path to a more relaxed and peaceful state of mind.
No matter who you are or where you come from, there will be moments where you feel overwhelmed, nervous and quite frankly, not like your best self. If the world of Chinese acupuncture is new to you, you might be wondering, "How in the world can tiny needles help put my mind at ease?"
We know that the insertion of very fine needles at specific points on the body stimulates the central nervous system to release chemicals through your endocrine system. This makes acupuncture a natural, drug-free way to relieve stress. And there's research that supports this idea:
One of the most notable series of studies on the subject was conducted by researchers at Georgetown University School of Nursing & Health Studies (GUSNH), and subsequently published in the Journal of Endocrinology in March, 2013.
GUSNH associate professor of nursing and the study's lead author, Ladan Eshkevari, designed the studies to test the effects of electronic acupuncture on levels of proteins and hormones secreted by biological pathways involved in stress responses. The findings showed that acupuncture blocks the chronic, stress-induced elevations of the HPA axis hormones and the sympathetic NPY pathway.
Other studies include, but are not limited to, "Acupuncture for Anxiety", which was published in CNS Neuroscience and Therapeutics in 2011, and an online study published in the Journal of Acupuncture and Meridian Studies in 2013, which showed that students who underwent acupuncture for stress had less anxiety and better memory immediately after their 20-minute session compared to students who did not.
When our patients tell us about their experiences with acupuncture for stress and anxiety relief, we could not feel prouder that we were able to help them lead happier, healthier, better lives. We understand that acupuncture can improve your mental and emotional health, especially when it is done as a complementary remedy to other treatments and therapies.
Contact Us Today
Discover what so many of our patients have already experienced. Getting acupuncture for stress Ottawa could change your life for the better! Call our team now.
CONTACT US »
---
Stress and Anxiety Treatment Ottawa, Downtown Ottawa, Orleans and Stittsville ON |
Oaktree Chiropractic & Acupuncture